December 2018
Parachute Adams
The Parachute Adams is a general imitation of any small insect floating on the water's surface. Instead of wrapping dry fly hackle around the hookshank like a "traditional" dry fly, the hackle is wrapped around a post to create a buoyant "wing" that holds this pattern on the water's surface. Scale up or down and change dubbing colors to mimic whatever insects inhabit your local waters. Yellow, brown, grey, and black are great colors for Nebraska waters.
Tying Tutorial Video -
Real Easy Parachute Fly
- by Fly Fish Food.
Simple Parachute Fly Materials
Hook:
#20 - #12 Dry Fly hook
Thread: White - 70 denier
Tail: Stiff hackle fibers
Body: Grey/Dun dry fly dubbing (super-fine dubbing)
Parachute/Post: White poly-yarn, Calf Tail, or E.P. Fibers
Parachute Wing: Grizzly Dry fly hackle
November 2018
Pheasant Tail Nymph
From rainbow trout to bluegill to carp, there isn't a fish that swims in the Cornhusker state that will turn down a Pheasant Tail. This is considered one of, if not the only nymph patterns you should never leave home without. There are several variations of this fly that all catch fish. Believe it or not the original Pheasant Tail Nymph, created by Englishmen Frank Sawyer in the 19th century, was made almost entirely out of copper wire! The fly was created using copper wire instead of thread to lash down a few pheasant tail fibers and sunk like a rock when fished (to get to the bottom of those deep pools). Modern pheasant tail nymphs are a little more complicated but are not difficult to tie.
Modern Pheasant Tail Materials
Hook:
#18 - #10 Nymph hook
Thread: Black - 140 denier or 6/0
Tail: Pheasant tail fibers
Thorax: Pheasant tail fibers (twisted and wrapped up the hook shank)
Rib (Optional): Fine gold or copper colored wire
Thorax: 1 or 2 strands of peacock herl (wrapped around shank)
Wing Case: Pheasant tail fibers
Legs: Pheasant tail fibers (from creating the wing case, folded back)
October 2018
The Caddis Fly
The caddis fly is an aquatic insect that goes through a "complete metamorphosis". That is, they have complete larva, pupa, and adult stages. Several species of caddis flies reside in our Nebraska trout streams, and you can bet they have a place on a trout's menu! The fly of the month is an adult caddis fly. The Elk Hair Caddis, created in the 1957 by Al Troth, is the standard adult caddis fly imitation. It is a very buoyant dry fly constructed with high floating elk hair or deer fibers. Make sure so spin some up in orange and yellow to mimic the October caddis hatch!
Elk Hair Caddis
Hook:

Size #20 - #8 - Dry fly hook.


Thread: white, tan, or cream- UTC 70 denier
Rib: Fine brass wire
Hackle: Brown, ginger, or black rooster saddle or cape
Body: Yellow, olive, ginger, or black dry fly dubbing.
Wing: Natural or bleached elk hair or deer hair, tips stacked.
September 2018
Yellow Beady Eye
This is a fly created by long time Cornhusker Fly Fishers member, Kenneth Whisenhunt. This fly's claim to fame is having caught nearly everything that swims in the Cornhusker State. With only 3 ingredients, this is one of the flies we recommend new fly tiers to spin up. Figure-8 a pair of eyes down, lash down a red tail, and palmer up some yellow chenille. What does it imitate? We don't know!!! But we can guarantee it catches fish!
Yellow Beady Eye
Hook:

Size #12 - #6 - Nymph or Streamer hook.


Thread: Red- UTC 140 denier
Tail: Red turkey quill fibers, red rubber legs, red hackle fibers, RED ANYTHING!!!
Body: Yellow chenille, yarn, or dubbing.
Eyes: Medium bead chain.
August 2018
Chernobyl Ant
Summer and fall is hopper season in Nebraska. Bluegill, bass, trout, carp, even catfish will gladly sip a hopper off the surface of the water. The longer the year goes on, the bigger the grasshoppers get. There are deer hair grasshopper patterns, balsa wood patterns, foam patterns, and hackle floated hopper patterns. An easy to tie and easy to customize hopper pattern is the Chernobyl Ant. Tie in yellows/browns/greens to mimic natural grasshoppers. Tie in black or grey to mimic crickets. Or tie in bright pink or chartreuse as an attention grabbing pattern. The Chubby Chernobyl is a more realistic looking pattern with a poly-yarn wing.
Chubby Chernobyl (Chernobyl ant variation)


Hook:

Size #12 - #4 - Nymph or Streamer hook.


Thread: White - UTC 140 denier
Body: Yellow or brown dry fly dubbing.
Back: Strip of yellowish or brownish closed-cell foam
Legs: Barred Sili Legs (yellow or brown)
Wing: White poly-yarn
July 2018
The Dalhlberg Diver
Created by the legendary angler
Larry Dahlberg
, the "Diver" is a topwater fly that mimics the diving/swimming action of a frog, (or fleeing baitfish). Tied with spun or packed deer hair, this fly is stripped across the surface of the water and slowly dives, causing a big surface commotion. The key to this fly is the neatly trimmed collar and flared deer hair that allow the fly to dive and pop back up to the surface. Pack the deer hair tight for a high-floating fly, or pack the deer hair loose, for a neutral-buoyant, slow diving fly. All species of predator fish can be targeted with this fly. Follow this
Link for tying instructions
from Ward Bean

Frog Colored Diver Materials:
Hook: Size 6-5/0 Bass bug hook or o'shaughnessy style hook.
Thread: Olive 210 Denier UTC
Tail: Olive or rootbeer krystal flash
Tail 2: Pair of olive marabou feathers
Tail 3: Two Pairs of olive or chartreuse saddle feathers
Head & Collar: Olive Deer hair. Packed and clipped.
June 2018
The Mulberry Fly
This fly will plop loudly and slowly sink, exactly how a natural mulberry acts. If you add floatant or use a lighter hook you can illicit some amazing surface eats. This fly also works great as a dropper below a buoyant foam or deer-hair mulberry fly pattern. Follow this
Link for tying instructions
.
Materials:
Hook:
Size 4-8 Saltwater Live Bait style hook or Glo-Bug style hook (Tiemco 105)
Thread:
White (or purple) 140 Denier UTC
Stem:
A Single
Chartreuse Silicone Leg
Berry Body:
Thick Purple Chenille -
Patons Bohemian Yarn
- Peaceful Plum Color is my favorite
**
Special Equipment
** Purple Sharpie to color your thread
May 2018
The Clouser Minnow
The original Clouser Deep Minnow evolved from traditional bucktail streamers and was created in 1987 by Bob Clouser, a Pennsylvania fly shop owner and guide. The original patterns were intended for smallmouth bass on the Susquehanna River. The name Clouser Deep Minnow was coined by Lefty Kreh in a 1989 article in Fly Fisherman. Today, the Clouser Deep Minnow is widely used for many species of both fresh and saltwater game fish. Lefty claims to have caught over 87 species of game fish on Clouser Deep Minnow flies. Originally tied with bucktail, the fly can by customized with any combination of synthetic hair and flash to mimic just about anything you want to target with a fly rod!
Standard Clouser Minnow
Hook: #1/0-08 Mustad 34007 (or your favorite streamer, saltwater, or jig hook)
Thread: White UTC 140
Eyes: Lead Dumbbell Eyes or bead chain
Tail: White Bucktail
Collar1: Pearl Krystal Flash
Collar2: Chartreuse Bucktail
Quick Tying Tutorial from Kirk Deeter
April 2018
The Woolly Bugger
One of the most ubiquitous fly patterns that will catch every fish that swims in the Cornhusker State.

The woolly bugger doesn't mimic any specific fish food item, but resembles a bug… or a minnow… or a crawfish… or maybe a leech.

Standby colors are olive, black, and white, but there's no reason not to experiment with bright colors.

Purple is a largemouth bass favorite.
Black Woolly Bugger
Hook:
#4-12 2xl nymph hook
Thread: UTC 140 Color That Matches Chenille
Tail: Black Marabou
Body: Medium Chenille
Rib: Small Brass Wire, Silver
Hackle: Woolly Bugger Hackle, Grizzly or Black Colored
March 2018
The Deceiver
A very timely pattern for March (a pike killer)... and probably the best general baitfish imitation ever created, Lefty's Deceiver is a mainstay in modern streamer fishing. Created by Lefty in the 1950's to imitate smelt (forage for big coastal striped bass), this streamer pattern has influenced virtually every large streamer pattern since, and caught nearly every predatory fish in salt or fresh water across the globe. Tie in bright colors for attractive patterns or tie in all white for the best general baitfish pattern around! This will catch virtually every predatory fish in Nebraska, just vary the size.
Standard Lefty's Deceiver
Hook:
Mustad 34007 size 5/0 through size 8 (or your favorite o'shaughnessy style hook)
Thread: White 140 denier UTC
Tail: Long White Saddle Hackles
Tail Flash: Pearl Flashabou
Body(optional): Pearl Braid or Pearl Flashabou
Wing (top): Chartreuse bucktail
Wing (bottom):White bucktail
Gills (optional): Red Krystal Flash
eyes are also optional
February 2018
Griffith's Gnat
This small fly was designed to imitate a single midge (or any other small insect) or a cluster of midges floating along the surface. Although midges are small, they can make up the majority of a trout's diet (and just about any other fish's) certain times of the year. Throw this fly when midges or tiny mayflies are hatching. This is also a great fly to use as a dropper behind a larger dry fly or hopper pattern.
Materials
Hook:
#12-24 Standard Dry Fly Hook (either straight or standard down turned eye)
Thread: UTC 70 Black
Body: Peacock Herl (typically one strand)
Hackle: Standard Grizzly, size to match hook.
January 2018
Zebra Midge or Brassie
The Zebra midge and Brassie flies imitate midge larvae, a primary food for trout (and all fish) during the winter months. Fished as a dropper below a Griffith's gnat, or as a stand alone nymph, these patterns are top winter producers. These small nymph patterns are infinitely variable, swap out bead colors or materials and fill a winter box in one tying session!
Zebra Midge Materials
Hook:
#14 - #22 scud or emerger hook
Thread / Body: Black - 70 denier or 8/0
Head: Silver bead. (1/16")
Rib: Silver wire, fine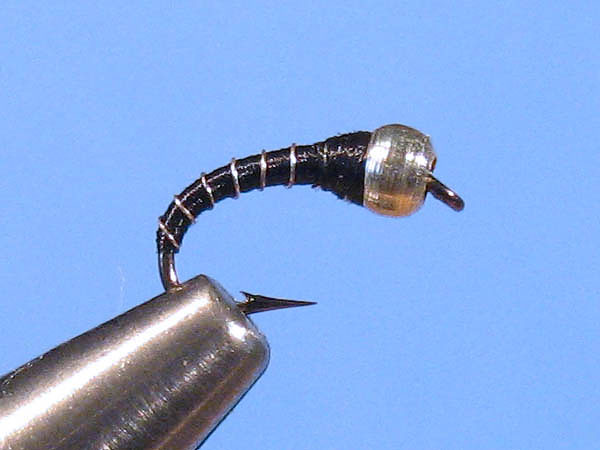 Brassie Materials (bead head version)
Hook:
#14 - #22 scud or emerger hook
Thread: Black - 70 denier or 8/0
Bead: 3/32" black or gold bead
Rib: Copper wire, fine
Thorax/Collar: Peacock herl